!-BODY BGCOLOR="#000000" TEXT="#FFFFFF" link="#FFFFFF"-> <!-BODY BGCOLOR="#000000" TEXT="#FFFFFF" link="#990000"->
[ Highlights || How JRH DB2I2 Works|| Major functions ||| Uses || Technical Description || System Considerations]

JRH DB2I2 is a tool for DB2:
Database administrators
System administrators
Application developers
JRH DB2I2 offers complete DB2 catalog query and object management. It runs under Interactive System Productivity Facility (ISPF) and uses dynamic SQL to access DB2 catalog and user tables. The tool provides comprehensive function and is interactive, intuitive, and very easy-to-use.
Most importantly, JRH DB2I2 is very cost effective comparing with any of the major players on the market, which addresses a very important issue every DB2 shop is currently facing - the expensive license fees and annual maintenance cost for the DB2 supporting software.

<![if !supportLineBreakNewLine]>
<![endif]>
---
Contains extensive support for displaying the DB2 catalog information
Provides extensive support for catalog administration
Provides support for developing new applications to manage both local and remote DB2 objects using dynamic SQL statements
Integrates with DB2 utilities and simplifies creation of DB2 utility jobs
The reusability of the line objects serving as both input and output of the process makes the DB2I2 extremely powerful to manage the day-to-day tough DBA tasks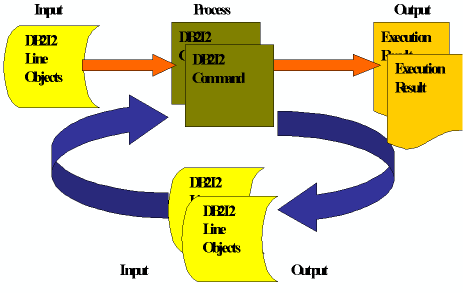 ---
JRH DB2I2 is a superset of ISPF edit command. It works just like any of the other ISPF commands. To direct JRH DB2I2 to perform a task, you need to do the following in sequence:
Enter line object(s) on edit line
Enter DB2I2 command on command line
Select line object(s) and press HOTKEY (Use ISPF KEYS command to define one of the FKEY to DB2I2 as HOTKEY)

Use command option IDSN='

line.object.dsname

' to read in the line objects from the '

line.obj.dsname

' file.
Use an added in new ISPF line command S to select single line object.
Use an added in new ISPF block line command SS to select a block of line objects.
If there are no S or SS line command entered, the current cursor positioned line object is selected.
If none of the above, then the first displayed line object is selected.
        

  

File

  

Edit

  

Confirm

  

Menu

  

Utilities

  

Compilers

  

Test

  

Help
        

-------------------------------------------------------------------------------
        

EDIT

       

JRHJ.DB2I2.WKBENCH

                               

Columns 00001 00072
        

Command ===>

 

db2i2 command [command options]

 

                   

Scroll === CSR
        

****** ***************************** Top of Data ******************************
        

==MSG> /* ------------------------------------------------------------------*/
        

==MSG> /*

               

JRH DB2I2

  

DB2 Catalog Interface Tool Box

           

*/
        

==MSG> /*

                  

By JRH 

GoldenState

 Software, Inc.

                

*/
        

==MSG> /*

                    

(C) Copyrighted 1997

,2005

                      

*/
        

==MSG> /*

      

             

Licensed to Evaluation Copy

                     

*/
        

==MSG> /* DB2I2 Environment - 

SSID(

DSN)

  

CONNECT( ) SYSIBM(SYSIBM)

          

*/
        

==MSG> /* ------------------------------------------------------------------*/
        

=NOTE= ** Please use 1. ISPF KEYS command to setup Hotkey for DB2I2
        

=NOTE= **

               

F4 key is a good candidate to assign to DB2I2
        

=NOTE= **

            

2. DB2I2 command SSID to setup DB2 Sub-System ID
        

=NOTE= **

            

3. DB2I2 command JOBCARD to setup 

Jobcard
        

=NOTE= **** Use DB2I2 command HELP to display any DB2I2 command Syntax
        

SS....

 

db2i2 line objects
        

SS....

 db2i2 line objects
---
JRH DB2I2:
Displays the DB2 catalog quickly and logically
Displays any object in the DB2 catalog tables

Displays related DB2 objects using line commands
Interprets catalog information
Displays the authorization for objects
Displays the static SQL from application plans and packages
Displays the DDL for existing DB2 objects

Executes dynamic SQL statements (in many cases, without requiring that you remember the SQL syntax)
Issues DB2 commands against databases and table spaces (without requiring that you remember DB2 command syntax)
Executes IDCAMS commands
Migration and DDL Generation management
Data move management. Use DSCOPY command to copy underlined VSAM linear dataset from one DB2 object to another even they are located in different locations
Generate DB2 utility JCL to run most of DB2 utilities with work spaces calculated
Allows complex performance and space queries
EXPLAIN a SQL statement or DECLARE CURSOR statement from DB2 DBRM or PACKAGE dynamically
Security management. Copy authorization from one user to another
Space management. Space

calculatation

and data extents removal
Backup management. Generate image copy with space allocation and tape

stagging

Recovery Management. Allows selection from a RBA list for the POC recovery and multiple recovery jobs

generateion

for concurrent DB2 object recovery

Reorg

Management. Intelligent

reorg

Plan/Package and Version Management. BIND, REBIND, FREE and PACKIT
---
|
System considerations]
Navigate the DB2 catalog to gather information, explore any DB2 objects to get a quick overview of the selected DB2 object
Quickly and easily discover problems for any DB2 object
Provide DDL generation and migration assist to help you manage both local and remote DB2 objects
Provide data move assistant and utility generation assistant which allows you to get most of the common used DB2 utility JCL generated without have to worry about the correct syntax and work files space calculation
Security management allows you to copy user authorization from one user to another
Copy management

help

you to calculate the space requirement for DASD image copy dataset. If tape image copy is desirable, the tape label and retain information are automatically generated
Recovery management allows you to pick a RBA point to be recovered back to, if a POC recovery is required. It also

generaets

optional Recover Index steps for and

tabespace

which have indexes defined

Reorg

with

Reorgchk

allows you to do

inelligent

reorg

. You can request a

reorgchk

to see if the DB2

tablespace

or index exceed the IBM recommended

reorg

threadhold

.
---
JRH DB2I2 is a REXX Exec driven DB2 administration and application development tool which utilize ISPF Editor as the front end presentation interface and dynamic SQL calls thru Call Attach facility where ever needed to interface with your DB2 data. DB2I2 also provides you with interfaces to DB2 commands and IDCAM commands thru TSO.
You initiate a request with an added in ISPF edit macro DB2I2 and line objects (edit line prefixed with line object abbreviation. for example, TB Q.PROFILES). You have a chioce to send the output result to an default file, a specified output file, or embedded within your ISPF edit session so that you can immediately reuse the result.

<![if !supportLineBreakNewLine]>
<![endif]>
---
Software

JRH DB2I2 requires the following software:
DB2 Version 4 or subsequence releases
ISPF Version 3 Release 3 or subsequent releases (5685054) and ISPF/PDF Version 3 Release 3 or subsequent releases (5665402) or ISPF Version 4 (5655042)
COBOL II 1.4 runtime library
TSO/E Version 2 Release 1 or subsequent releases (5685025)
OS/390 Version 1 Release 3 or subsequent releases

zOS

Version 1 Release 1 or subsequent release

Hardware

No specific requirements.

*IBM, DB2, TSO, ISPF, COBOL II, OS/390, zOS are trademarks of the International Business Machines Corporations.
(C)opyrighted 1997, 2008 By JRH Golden State Software Inc.